Weißensee – until 2001 an independent Berlin borough but now just a locality within the new super-borough of Pankow – is mostly known for three things: the Weißer See (a picturesque inner-city lake), the Jewish Cemetery (largest in Europe!) and the Delphi cinema (one of the oldest, still open Berlin picture shows, whose fabulously imperfect interior played the role of the 1929 "Moka Efti" café and dance hall in the TV series Babylon Berlin).
The lake has been a cooling magnet for sun- and water-hungry crowds for well over a century. It still is. On warm days you will find said crowds strolling around its shore, clinging onto the precious lawn- or sand-spot along the waterline or bobbing on the latter's surface like an inflatable armada of pink plastic flamingos (or rubber doughnuts). And sooner or later nearly all of these people will have visited the Milchhäuschen, an elegant mid-1970s café on the western shore of the lake, straight across the water from the lido.
Ask anyone who grew up in Berlin-Weißensee and the Milchhäuschen is as certain to pop up in their long-forgotten tales of the sun-drenched days at the lake as the plastic inflatable flamingos are sure to appear on its surface today. You went to the lake, you went for a swim and after warming yourself up in the sun, you heard your parents say the magic words: "Ick schwitze wie 'n Braten! Wolln wa Eis essen?"*
For generations of Berliners and Weißenseers this small place at the lake has been a thick thread in that warm worn-out cardigan known as childhood memories.
Interestingly, it is not the first Milchhäuschen that stood on this spot. Until 1965 that name belonged to a lovely half-timbered cottage with a closed wood-and-glass veranda. It was one of the only two buildings erected in the 1880s as part of a never-realised project, an amusement park "Kopenhagener Tivoli". In 1905 local Weißensee authorities bought it along with the rest of the park and by 1913 had the cottage converted to a place where local families – and children in particular – could enjoy a glass of fresh milk and healthy dairy products.
Drinking good quality milk – fresh, free of pollution and, first of foremost, coming from healthy and TB-free cows (cows can pass tuberculosis onto humans) – was one of the basic measures to boost the health of the youngest city-dwellers (a practice which held in many places – like Poland, for instance – until late in the 1980s). That is why Berlin had more of such "milk bars" (one of the more famous ones stood in Viktoriapark in Kreuzberg).
The milk and dairy products sold at the original Milchhäuschen in Weißensee came not from the cowsheds and meadows of Brandenburg but from… the local hospital. The Säugling- und Kinderkrankenhaus (Infant and Children Hospital) in Hansastraße – the first municipal infant and children hospital in Prussia – kept its own herd to provide nourishing milk to its young patients. The excess of it could be sold at a small profit.
But it was not about money. The terrifying mortality rates among infants and young children in Berlin as well as its surrounding cities and rural communities – until 1920 Weißensee was one of the latter – made the local authorities act before it was too late. Just to give you a sense of how appalling and alarming the situation in Berlin was: in 1900 and 1901 around 30% of all new-borns died within the first year. Most of them in summer, in July and August, and mostly due to infections of the digestive system and diarrhoea.
Why were the numbers so high? And why in summer? The hygiene standards were only one factor. The other one was the plain fact that most mothers had no way of breastfeeding their infants: they spent most of their days working very hard indeed, forced to entrust their babies with relatives, neighbours or older children. Who fed them cow milk. On hot days even fresh milk went sour fast and bacteria spread.
Toddlers and older children were often undernourished, too, and cow milk was a source of many crucial nutritives for them. That explains the idea behind the Milchhäuschen – or Milchwirtschaften as they were sometimes called. They were one way of alleviating the dreadful situation.
The Weißensee Milchhäuschen did exactly that – it helped save and strengthen the children by improving their health. And it definitely made both them and their parents happy by offering fresh yoghurt, cottage cheese and sweet milk-pudding.
Neither the First nor the Second World War brought an end to that tradition. After Germany's capitulation in May 1945 it did not take long for the place's fans to return in the hope of finding a bit of normality and that taste of sun-drenched afternoons they remembered from before their world had fallen apart.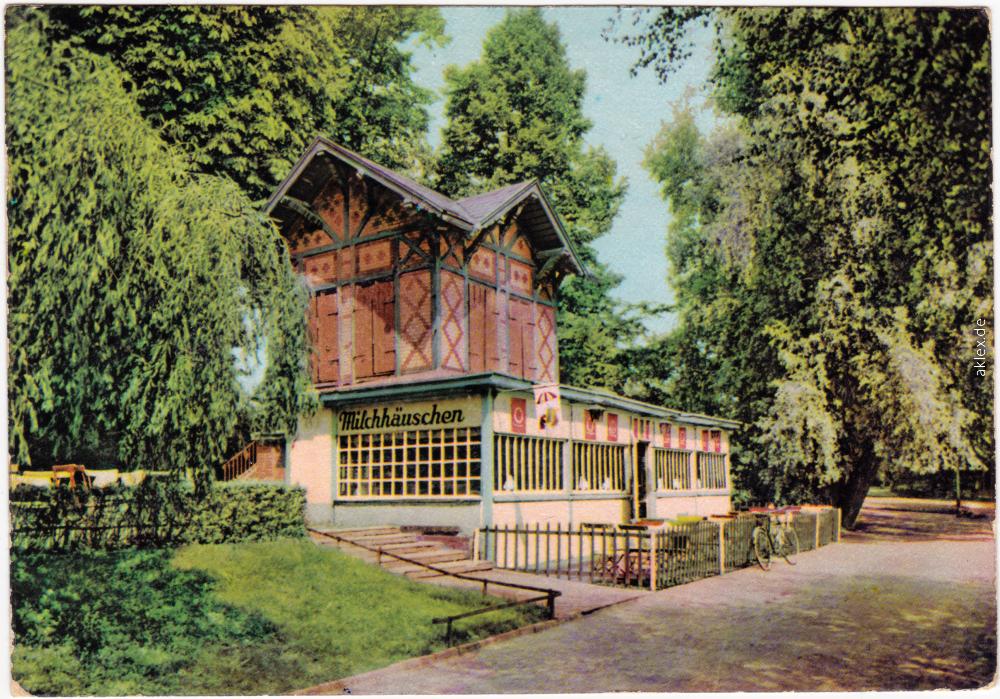 Slowly Milchhäuschen regained its old charm and used it to enchant both old and new guests. Until 1965, that is. That year brought its end: rot damaged the half-timbered structure beyond repair and the historic building had to be demolished. It came as a great loss to both the locals and visitors from other boroughs and for a while it was uncertain what would follow.
It took another decade for the new Milchhäuschen to take its place – even though plans for the new building were ready in 1966. From 1976 the bright pavilion with a terrace attracted crowds again – during the day they ate their ice-cream, sipped their milkshakes or iced-coffee and in the evening enjoyed strolling around the lake and the sight of the "Milchhäuschen" neon-sign installed on its roof.
The Wende (Reunification of Germany) in 1990 almost became its end. Luckily, after several years of post-Reunification limbo, when all cards were being dealt out anew, the popular lakeside café eventually found its new owners – before it was too late. Today's "Master of the Milk Cottage", Sebastian Wachenbrönner, took over from his father, Oswald, who leased and renovated the venue in 1995.
Before its re-opening in 1996, today's Milchhäuschen had to undergo extensive restoration works. As a result the interior of the 1976 pavilion had to be made anew while the new owners retained the original outer shell. It was important to keep it – not only for sentimental reasons. Unbeknownst to many, that small pavilion at the Weißer See was designed by Ludmilla Herzenstein. Her name might not tell you much but go to Karl-Marx-Allee 102-104 or 126-128 where a row of poplar trees hides the slightly set back residential buildings known as Laubenganghäuser (Balcony-Access Blocks) – the very first two buildings built in 1952 along the planned Stalinallee – and you might see the common denominator. Clean-cut, practical, simple, accessible. And with a lot of light. "Too elitist", "too modern", "too pre-war-like", said the Soviet-oriented Berlin authorities promptly and introduced a new ruling style along the Stalin Boulevard.
The Laubenganghäuser, however, could stay but that row of poplar trees before them is not a coincidence. And even years later, Ludmilla Herzenstein still believed that her design for new accommodation for the working-class Berliners would have been the right path to follow. Just as it was in 1929 when the Berlin legend of German modernist movement Neues Bauen, Bruno Taut, employed Herzenstein as the building site manager for what is known today as Onkel-Toms-Hütte or Papageinsiedlung in Berlin-Zehlendorf, one of Berlin's Modernist heritage sites.
So that is why, thanks to an almost forgotten female Berlin architect, Ludmilla Herzenstein, right now somewhere inside the Milchhäuschen at the Weißer See there lives the spirit of Bauhaus. And is probably having a milkshake.
*Ick schwitze wie 'n Braten! Wolln wa Eis essen? – literally: "I'm sweating like a roast! How about an ice-cream?